Why Is it Important to Get a Premarital Agreement?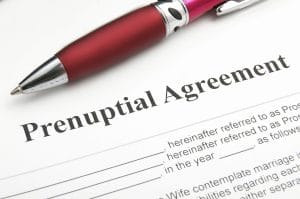 When we're getting married, especially when we're deeply in love, we might not think that a premarital agreement is necessary. We cannot imagine we might one day not be in love with this person we're marrying – that we might wish to separate or divorce them. Unfortunately, that's the truth of the matter for many of us, and it's a very real issue that needs to be discussed with your significant other. If the Princess of Dubai had done this, perhaps she would have won even more in her divorce from her Sheikh of a husband.
The story of a princess, the sheikh, and a luxurious standard of living
In Dubai late last year, a scandal broke out across the country when Princess Haya was caught in an affair with her British bodyguard while married to the leader of Dubai, Sheikh Mohammed bin Rashid al-Maktoum. This led to a divorce between the two, and a settlement that has been dubbed "the biggest divorce settlement in U.K. history" as the sheikh was ordered to pay $754 million to his now-estranged wife.
The princess had been having her affair in quiet until she decided to "borrow" $7.5 million from her daughter's trust fund. This made it easy for the sheikh to discover the affair between her and her bodyguard; the princess' security team had blackmailed her to keep the secret of the affair, and she had been too scared to do anything else but give them what they asked for. Nevertheless, when the sheikh found out about the affair, he divorced her.
At the court proceedings to determine the settlement, the judge noted the opulent lifestyles and the "unprecedented standard of living" that the two of them had grown accustomed to. With that in mind, the judge ordered the sheikh to pay Princess Haya millions in order to support her and their children's expensive lifestyles.
While this does seem excessive, a majority of that money is to be spent on security for the princess and her children to protect them from the sheikh. Being the very wealthy and powerful ruler of Dubai, the sheikh considered her offense against him to be a capital one. According to the judge, "This is compounded by the full weight of the state that he has available to him as seen by his ability to make use of the Pegasus software, which is only available to governments." Reports note the sheikh used the software to hack the phones of the princess and her lawyers.
Now, that's not to say that there won't still be plenty of money left over for the princess and the children to travel anywhere they wish, whenever they please. Money was allotted for expensive tutors, animals including horses and ponies, and even $1.3 million for unspecified leisure activities. The princess did ask for money for her nine-year-old to buy three more cars – that request was denied, as the child already had one car to speak of. She also lost $110 million in haute couture wardrobe, $26 million in jewelry, and her stable of horses. The judge awarded her $6.6 million so she could afford new horses.
What is a premarital agreement?
Premarital agreements (sometimes called prenuptials) are "documents designed to set up in advance how property and assets will be divided in the event a marriage ends in divorce." A premarital agreement is a contract that is signed by both parties in the prospective marriage. In this contract are the details of what each person is bringing into the marriage such as their physical possessions (assets) and what they owe (debts). These items are specified as separate and individual to those who they belonged to before the marriage. Premarital agreements are helpful because when you're getting married, the division of property can be confusing and stressful. There is also a post-marital agreement, which is the same thing, but the contract is signed after a marriage has occurred.
Premarital agreements specify how assets and debts will be shared during the marriage, and in the event of a divorce, how the assets and debts will be divided. Not only can it detail what will be given to who, but also matters of alimony. Premarital agreements cannot address issues related to children, whether currently in existence or born later, such as custody or child support.
This sort of contract used to be thought necessary only for the ultra-wealthy – like the sheikh and the princess – but there have been many divorces among everyday society that ended messily and wrought with stress because they did not have a premarital agreement.
It may be hard to relate to these exorbitantly rich royals with their stables of ponies and nice cars for nine-year-olds, but the root problem remains: had they signed a premarital agreement before they were married, then there would have been no need for a judge to tell him to pay up, and perhaps the princess would have gotten her prized jewelry and horses in the divorce. It's hard to say now. While we doubt you'll find yourself in this exact situation, it might be more reasonable that you will want to keep your car and your clothes should you ever divorce.
The Charlotte divorce attorneys at Epperson Law Group, PLLC will work with you to draft up a contract that is equitable to both you and your partner. Let's talk about your future. To reserve a consultation with one of our lawyers in Charlotte, Concord, Boone, or Weddington, please call 704-321-0031 or fill out our contact form.